Tempo PRO is a Music Video Maker app that can make videos and add cool effects. It can be installed on most iOS devices. Tempo PRO is a straightforward and effective video-making app. It can edit videos without any limit.

The app contains popular themes, new subtitle effects. You can edit videos with music and pictures.
Tempo PRO++
Tempo has been consistently in the top 120 of the Music category in over 30 countries, high quality filters cover users' different requirements. Also supports iPhone and iPad screens.
Tempo PRO++ – IPA
Music Video Maker!
Last updated: May 20, 2021
Version: 3.8.5
You can edit videos with music and be able to share them to Facebook, YouTube, Instagram! Once a week the app development group will update the new filters/face and effects.
Tempo PRO+ Features
No jailbreak required.
Does not has any editing limit.
Videos are automatically encoded and compressed.
Hundreds of high-quality filters to meet users' different requirements.
Special transition effects make your video unique.
Multiple shots supported, and switch filters freely as you wish.
Stylish face stickers.
Wide Screen mode.
Share your creative photos/videos to Facebook, Instagram.
Add Music to Video.
Save Video – 720P/1080P HD export with no quality loss.
unlimited access to all features and content.
Music Video Maker and Effects.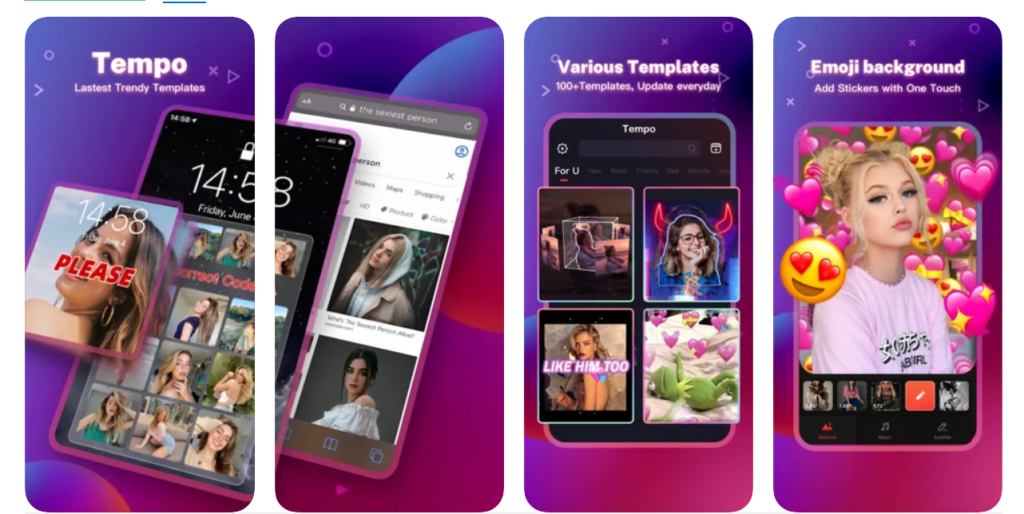 Supported Versions –
iOS 13 , iOS 13.1.1 , iOS 13.1.2 , iOS 13.1.3 , iOS 13.2 , iOS 13.2.2 , iOS 13.2.3 , iOS 13.3 , iOS 13.3.1 , iOS 13.4 , 13.4.1 , iOS 13.5 , iOS 13.5.1 , iOS 13.5.5 Beta 1 , iOS 13.6 , iOS 13.6.1 , iOS 13.7, iOS 14.3, iOS 14.2, iOS 14.1, iOS 14.0.1, iOS 14, iOS 14.1, iOS 14.2, iOS 14.2, iOS 14.3, iOS 14.5, iOS 14.6, iOS 14.7, iOS 14.8
iOS 15, iOS 15.1.1, iOS 15.2 beta
Supported Devices –
iPhone13, iPhone 13 Mini, iPhone 13 Pro, iPhone 13 Pro Max
iPhone12, iPhone Mini, iPhone 12 Pro, iPhone 12 Pro Max
iPhone11, iPhone 11 Pro, iPhone 11 Pro Max
iPhone X, iPhone XS Max, iPhone XR
iPhone 8, iPhone 8 Plus
iPhone7, iPhone 7 Plus
iPhone 6s, iPhone 6s Plus
iPhone6, iPhone 6 Plus
iPhone SE
iPhone 5s
iPad Mini (5th generation), iPad Air (2019, 3rd generation)
iPad mini 4, iPad mini 3, iPad mini 2
iPod touch 6G 2nd-gen,
iPad Pro, iPad Air 2, iPad Air.
How to Install Tempo PRO++ IPA file using Sideloadly
Step#1 Open Sideloadly app
Step#2 Connect your iPhone/iPad/iPod device to your computer
Step#3 Enter your Apple account email
Step#4 Press on the IPA button to select an IPA file or Drag & Drop it
Step #5 Then Click on the Start button & Enter your Apple ID Password, then press OK.
Step#6 Tap OK, Now you can see a verification code popup on your device
Step#7 Enter verification code and Tap on the OK button.
Step#8 Wait for Done Message
Step#9 Once it shows the done message, Go to the home screen on your device for App.
Step#10 Trust the App from Settings > General > Profile and Device management and Trust the App.
Tempo PRO++ install from AltStore – Windows Computer:
Download AltStore. Choose correct setup file according to your Operating System(64X/86X).
Extract zip file and run AltStore setup file, & Follow-on screen instructions.
Launch the AltStore application.(Press Windows key and type "AltServer" > run it.)
Now tap on the arrow icon near the Wi-Fi/Battery icon in the taskbar. Find a diamond shaped logo for AltServer and tap on it.
Go to option > Tap on Install AltStore > Select your iDevice > Enter your AppleID and Password.
Go to iDevice settings app > General > Device Management > Find your Apple ID, tap on it > Trust AltStore.
Download latest Tempo PRO++ iPA File. Open Downloaded iPA file through AltStore.
AltStore will now install the Tempo PRO app to your device.
Now Open Tempo PRO cracked App.
Conclusion
We hope we can answer all your questions. If you like this guide, please feel free to share your friends on social media Networks. If you have any more questions then do let us know the comments below. Thank You 🙂🙂